The 14th edition of Meetings on the Bridge was held between 5 and 16 April within the scope of the 38th Istanbul Film Festival with the support of Anadolu Efes. The projects and films that received the Meetings on the Bridge awards were announced at a reception hosted by French Palais on Friday, 12 April.
Meetings on the Bridge is providing an opportunity for filmmakers to hold the first international presentations for their new film projects at Film Development Workshop and Neighbours Platform and films in post-production at Work in Progress. Meetings on the Bridge aims to pave the way for co-productions for cultural exchange and financial support. This year 11 fiction and 2 documentary feature film projects from Turkey are selected from among 121 applications.
20 projects and 8 films in post-production from Turkey and its neighbouring countries Georgia, Iran, Egypt, Romania, Ukrania, Lebanon and Greece presented their projects and films. Directors and producers had a total of 350 meetings with 130 international professionals and took the first steps of co-production partnerships.
Film Development Workshop jury members Oana Giurgiu (Producer / Libra Film ), Remi Burah (CEO / ARTE France Cinema), Gabor Greiner (Head of Acquisitions / Films Boutique), Martina Bleis (Co-Head & Curator / Berlinale Co-Production Market) and Nicos Panayotopoulos (Screenwriter & Novelist, / Mediterranean Film Institute) selected the award winning projects after pitchings.
Meetings on the Bridge Award Ceremony started with speeches of Head of Meetings on the Bridge Gülin Üstün and French Consul Général Bertrand Buchwalter.
Award winning projects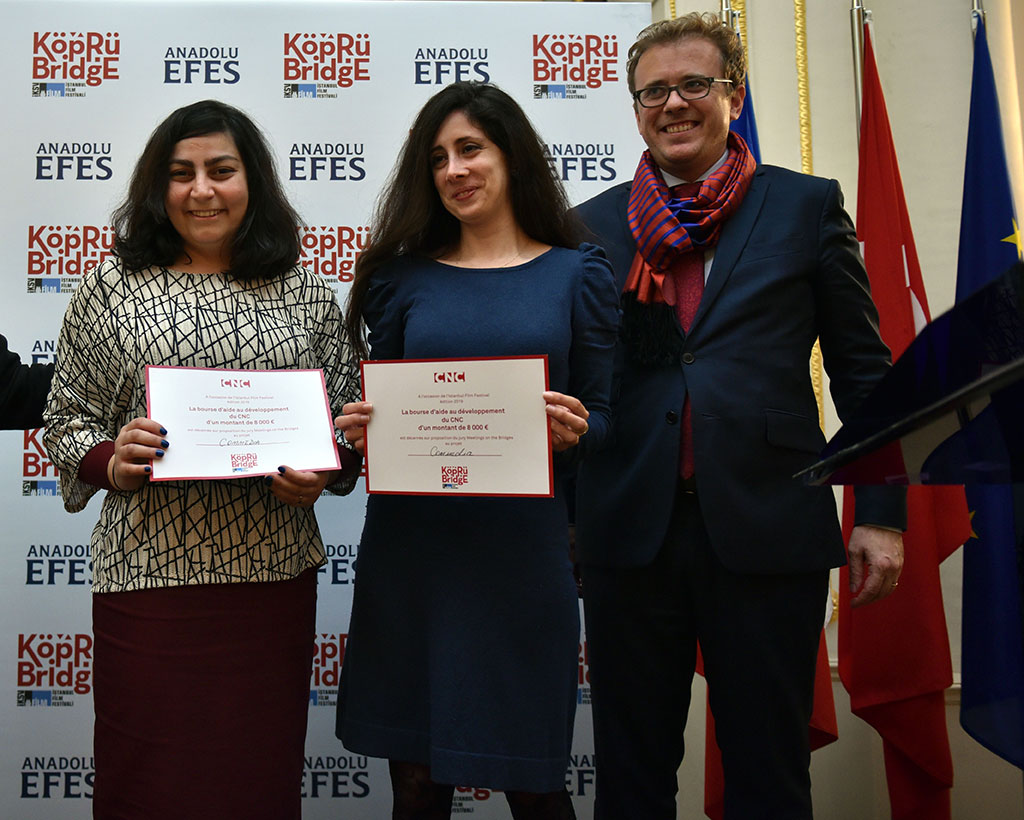 The Film Development Workshop and the Neighbours Platform projects were all eligible for the 8000 Euro CNC Award. The award was presented to Myriam El Hajj, the director and Myriam Sassine, the producer of the project COMMEDIA by Mr Consul Général Bertrand Buchwalter.
Postbıyık Sound Production Award, specific for the Neighbours selection was presented by Yalın Özgencil and Sertaç Toksöz to the director Mohamed Siam and the producer Guillaume de Seille, of the project BLOOD AND HONEY.
The content of this publication, supported by the Istanbul Development Agency and prepared within the scope of Innovative Workshops and Improving the Creativity and Commercial Success Capacities of National Film Industry Actors Project, does not reflect the views of Istanbul Development Agency or Development Ministry and Istanbul Foundation for Culture and Arts is the only party responsible for the content.
TR10/16/YNY/0063