3rd Film Festivals Symposium
7-8-9 April 2023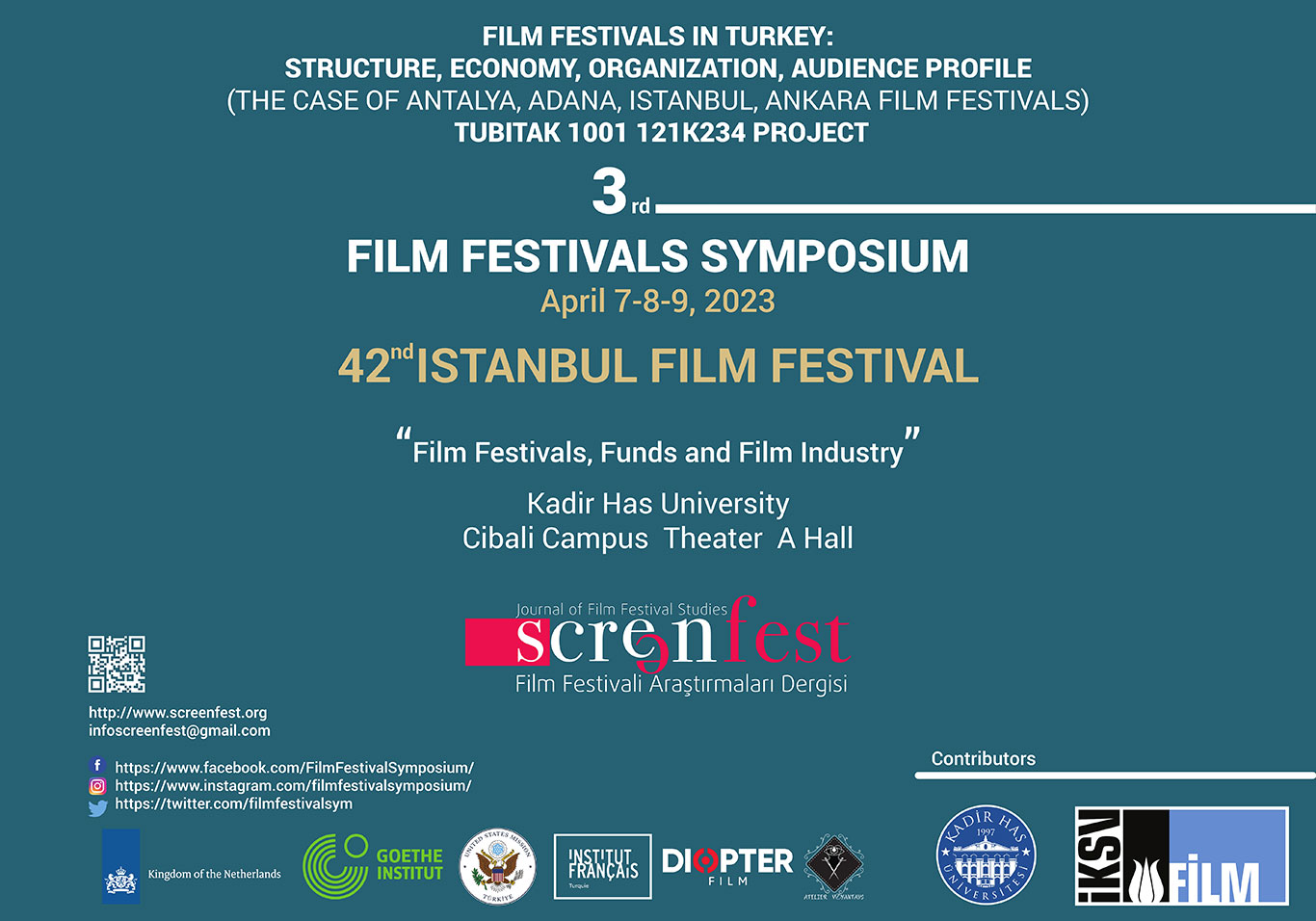 3rd Film Festivals Symposium, 7-8-9 April 2023
The 3rd Film Festivals Symposium, organized by screenfest: The Journal of Film Festival Studies, will be held in cooperation with the Istanbul Film Festival on 7-8-9 April 2023 within and during 42nd Istanbul Film Festival. This edition's theme is "film festivals, funds and film industry." The symposium aims to provide an academic debating platform that embraces all aspects of film festivals. The symposium welcomes academics, festival staff, film critics and film industry professionals.
The 3rd Film Festivals Symposium is organised as part of the project Film Festivals in Turkey: Structure, Economy, Organization, Audience Profile (The case of Antalya, Adana, Istanbul, Ankara Film Festivals) no. TUBITAK 1001 121K234.
The Symposium Organization Committee would like to thank Istanbul Film Festival and Kadir Has University for their cooperation and support.
The Committee would also like to thank U.S. Mission to Turkey, General Consulate of The Netherlands in Istanbul, Goethe Institut-Istanbul, and Institut Français Istanbul.
KEYNOTE SPEAKERS
Marijke de Valck, Utrecht University/Netherlands
Skadi Loist, Film University Babelsberg Konrad Wolf/Germany
Tamara L. Falicov, University of Missouri-Kansas City/USA
Ana Vinuela, Sorbonne Nouvelle University/France
Guest Speaker: Jeske van der Slikke/Hubert Bals Fund-International Film Festival Rotterdam/Netherlands (online)
SYMPOSIUM ORGANIZING COMMITTEE
Ali Karadoğan (Munzur University), Aydın Çam (Çukurova University), Emine Uçar İlbuğa (Akdeniz University), Hakan Erkılıç (Mersin University), Senem A. Duruel Erkılıç (Mersin University), S. Serhat Serter (Anadolu University)
SECRETARY
Nil Yüce, Onur Aytaç, Selver Dikkol, Servet Can Dönmez
For further info and programme:
screenfest.org
infoscreenfest@gmail.com
facebook.com/FilmFestivalSymposium/
twitter.com/filmfestivalsym
instagram.com/filmfestivalsymposium/