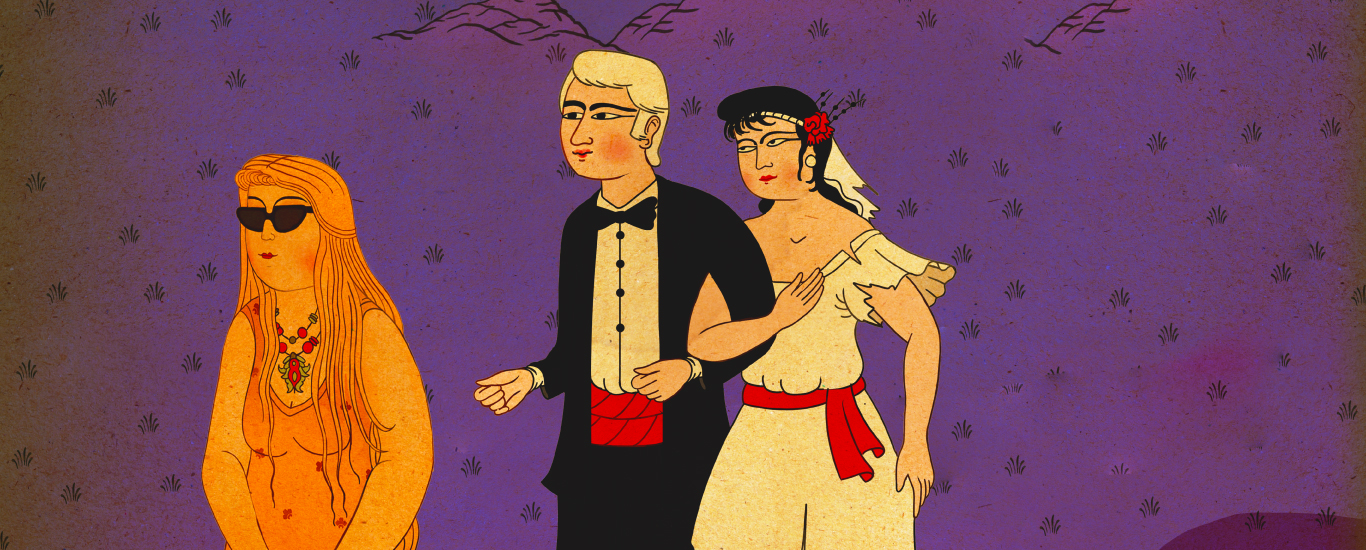 Tuesday, April 10
Presentations:
Giovanni Totaro: "Only Tony had experience in acting"
Italian director Giovanni Totaro was with us at Cinemaximum City's Nişantaşı for the screening of his film Happy Winter from the section of "Documentary Time with NTV". Sharing that he stayed two years on the beach where he shot the film and began to do auditions with the people he met, Totaro said that among the cast only Tony had experience in acting and that he examined directors who work with amateur actors: "At the Mondello beach in Palermo, each year a thousand beach huts are built for vacationers. People from Mondello have been renting those huts for their summer vacation for centuries. This used to be Italians' holiday concept all over the country. But a decision has been made to remove these huts in 2020. Even though in the film the idea is that "we should keep having fun," these beaches were the ideal spots to relay the social and political events. The title of the film was inspired by what people say to each other when they start going back home because they won't see each other for another year: 'Happy Winter'."
Milcho Manchevski: "We tried to show everything as if it was real"
Challenging the years with his 1994 masterpiece Before the Rain, director Milcho Manchevski is at the festival with his new film Bikini Moon. The film is shown as part of the section "No More Flowers" which is a selection of films telling stories of headstrong women. The director talked at the screening of the film at Atlas Sineması: "The main idea in making this film was to make an experiment. I first thought about it as a documentary but then it became something like a fantasy. I tried to think about this question: "As the audience, what relation do we have with reality and documentary cinema?" The mobile phone footage or the scenes where the crew was seen were all fiction; we planned it all. And we tried to show everything as if it was real. There were parts that the camera missed. So there were gaps just like there are gaps in documentaries." Manchevski said that their method in filmmaking was to question everything, and added that he tried to act on his instincts during the writing process and that his favorite films are usually about deep emotions.
Inside the farm life…
The screening of Ravens from the section "Young Masters" took place at Beyoğlu Sineması with the participation of director Jens Assur. Adapted from award-winning photographer and director Tomas Bannerhed's book, the film is set in the 1970s and gives an unsettling look at farm life. The director explained why he picked this theme in particular for his first feature film: "I was born in a village in north Sweden. There were 90 people living in our village and all of us had the same lifestyle as in the film. The first misconception about farm life is that it is very easy, fun and peaceful. But many accidents and injuries occur in this job. Each year in Sweden 4 thousand people are injured or killed because of this; and I wanted to show that." Having participated at the Istanbul Film Festival with his short film 10 years ago, Assur also shared that he's happy to be back at the festival with his first feature film.
Ümit Ünal: "Shame is the first Bergman film I've seen."
The screening of Shame, picked by director Ümit Ünal for the section "Bergman: 100 Years", took place at Beyoğlu Sineması. Ünal attended the screening and explained why he picked this film: "When Kerem Ayan phoned me a few months ago to tell me about this idea, and said 'You have to pick a film,' I didn't hesitate one moment and said Shame. First of all, it's the first Bergman film I've seen. When I was studying at the university, it was shown on TV, on the Turkish state TV. I was impressed. Bergman tells a story of war in this film. Generally in war films there are heroes. But in this film, there are no heroes, but ordinary people. The film doesn't tell us what the war did but what happened to these people and how people become corrupt because of the war. War takes away daily life and culture. The protagonists of the film are two musicians who lost their orchestra. Bergman uses a great metaphor and shows us the members of the dissolved orchestra. The good thing about the film is that instead of showing the violence of the war, it shows the violence between these two people. This had left quite an impression on me.
Mehdi Ben Attia: "This film is about the conditions in which women live."
Of Skin and Men from the festival's newest section "No More Flowers" was screened at Cinemaximum Zorlu Center with the participation of Mehdi Ben Attia. The director said: "This is not a film just about Tunisia but about the conditions in which women live. The sources of inspiration have been me, the city and my friends. I focused on the main character, Amal, but I'm actually referring to the conditions of women in general." Attia said that many women in Tunisia are not as free as Amal and explained: "I thought reversing this situation would be interesting. I cannot say that I've figured out and understood everything. Sometimes it's best to leave certain things to the audience."
Events:
Criticism makes cinema live forever
Prominent film critics of Turkey, Fatih Özgüven, Kutlukhan Kutlu, Senem Aytaç and Yeşim Tabak came together and shared their experiences at Yapı Kredi Kültür Sanat for the talk "Why Critics Exist," moderated by Hasan Cömert.
"The film critic, at his best, is a professional movie-goer."
"When you write what you want to write discussing with yourself, the reader gets what you're saying. But when you write for the reader's taste or preferences, then there's no understanding. I've never thought of writing for the reader or seen any distinctions between different areas," said Fatih Özgüven and added, "When I write a review my main motivation is to be able to relate to the film. It's important to me to try and have a close feeling with the film, to get really inside its world and to make it narratable to other people. The film critic, at his best, is a professional film watcher. Cinema means being a watcher in all its aspects. Film criticism is the audienceship you achieve with blood, sweat and tears.
"I see the Internet as a blessing for film criticism."
Kutlukhan Kutlu explained that in the past they had to write the plot of the films, adding: "But I didn't want to write the plot every time; I wanted to write something completely different." Kutlu also commented on the relevance of the Internet: "I see the Internet as a blessing for film criticism. Now we're living in an age where we can really make criticism. Writing blurbs is an epidemic that stayed with us from the old way. If I didn't have a good memory, I wouldn't start film criticism. Writing about films seemed magical to me. Cinema is an art form inimical to words. I see cinema as the stuff of dreams, so for me, it's important to draw it closer to words."
"It's becoming difficult to write as well as offering a platform to the people who write."
Senem Aytaç pointed out that it is important to create space for different voices in this area that is increasingly shrinking: "Independent publishing is hard… We've shifted from a time of not being able to find information about films to one where it is now possible. It's important to try and not use any criterion based on taste… After watching the film, it's important to invite the audience to have a dialogue and make it circulate." Aytaç also emphasized the importance of language, explaining that "the production rhythm of the Internet is extremely fast. That's why I'm very happy that I'm writing for a monthly magazine. Each area has its own language, so you need space to review and regulate it." She also added that the most problematic area of the Internet is the editorship.
"We're at a point where the activity of thinking is not very advanced..."
Yeşim Tabak, said that it is time to write the history of cinema again, that the history of cinema can be reread, and added: "I used to see film critics as some people with whom I shared the passion for cinema. All my friends used to buy the newspaper I wrote for. It had a very concrete place in my life. It was from real life, and had a place there that was alive. We're at a point where the activity of thinking is not very advanced. The activities of the artists and critics as individuals have diminished. The importance or effectiveness hasn't decreased but the effectiveness of individuals has diminished. There are many productive people but it has no corresponding impact in the material world.