The selection committee selected 10 projects out of the 120 applications for the Film Project Development Workshop held for the 8th time within the scope of the Meetings on the Bridge.
Anons / The Announcement (Mahmut Fazıl Coşkun)
Av / The Hunt (Emre Akay)
Bir Baba ve Oğulun Ölümü / The Death of Father and Son (Zekeriya Aydoğan)
Çarpık Ev / The Crooked House (Sinem Sakaoğlu)
Hafiye / The Detective (Mehmet Sait Korkut)
Hayatı Beklerken / Waiting for Life (Ayşe Toprak)
Herşey O.K / Everything's O.K (Theron Patterson)
Iguana Tokyo (Kaan Müjdeci)
Nebula / Dead Horse Nebula (Tarık Aktaş)
Yanlama / Ghetto Drifters (Dağhan Celayir)
The international jury comprising of Gabrielle Dumon (Le Bureau Films), Giovanni Robbiano (Mediterranean Film Institute - MFI), Khalil Benkirane (Doha Film Institute), Meinolf Zurhorst (ZDF), and Sergio Garcia De Leaniz (Eurimages) decided on the award winning projects.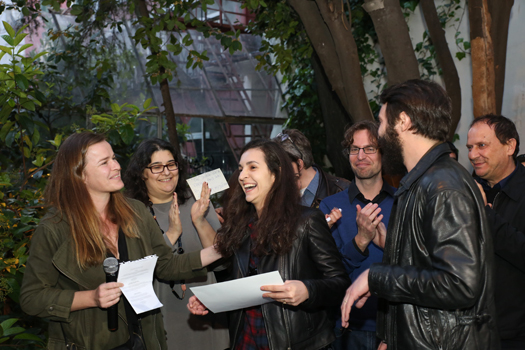 Tarık Aktaş, director of Dead Horse Nebula received the Meetings on the Bridge Award of USD 10,000 from Gabrielle Dumon.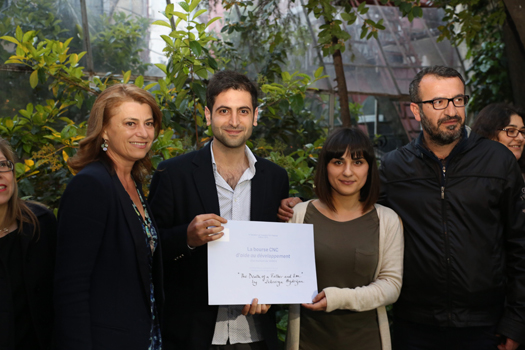 The project of Zekeriya Aydoğan, The Death of a Father and Son was presented 10,000 Euro CNC Award by Fanny Aubert Malaurie, The Cultural Attache of France.
Melodika Sound Post Production Award was presented to Mahmut Fazıl Coşkun for his project The Announcement, by Didem Oğuz, the co-founder of Melodika.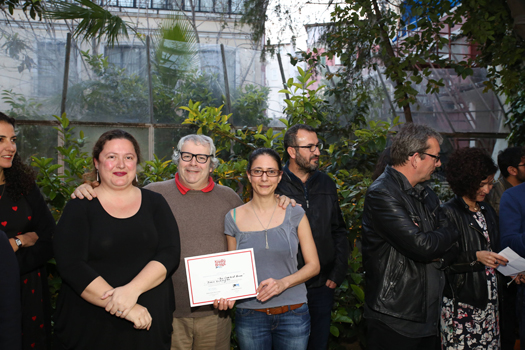 The Mediterranean Film Institute (MFI) Script and Development Workshop Award, which comprises four stages, was presented to Sinem Sakaoğlu for her project The Crooked House by Giovanni Robbiano from MFI. The director and scriptwriter of the project will participate in the scenario workshops, two of which will be on the Nisiros and Samos Islands of Greece in 2015 and two of which will be online.
MEETING FILMS ON THE BRIDGE
A selection of films which previously  premiered at local and  international film festivals were screened at cinemas in the campuses .  After each screening  a moderated talk and Q&A with the filmmakers took place. The screenings were  free of charge.
Meetings on the Bridge films screenings are on the road now going to other cities.  Starting with Afyon Kocatepe University, İzmir Dokuz Eylül University and Eskişehir University.
The program of 2015 is below:
ISTANBUL BILGI UNIVERSITY (with the cooperation of Bilgi Cinema Club)
Present Tense (dir. Belmin Söylemez)
The Mold (dir. Ali Aydın)
Blue Wave (dir. Zeynep Dadak, Merve Kayan)
Voice of My Father (dir. Orhan Eskiköy, Zeynel Doğan)
Song of My Mother (dir. Erol Mintaş)
KADİR HAS UNIVERSITY (with the cooperation of Kadir Has University Cinema Club)
Zephyr (dir. Belma Baş)
Shadows and Faces (dir. Derviş Zaim)
Yozgat Blues (dir. Mahmut Fazıl Coşkun)
The Impeccables (dir. Ramin Matin)
KOÇ UNIVERSITY (with the cooperation of Koç University Media and Visual Arts)
Come to My Voice (dir. Hüseyin Karabey)
Strangers in the House (dir. Ulaş Güneş Kaçargil, Dilek Keser)
Ships (dir. Elif Refiğ)
Toll Booth (dir. Tolga Karaçelik)
GALATASARAY UNIVERSITY (with the cooperation of Galatasaray University Center for Media Studies, Research and Applications)
Sivas (dir. Kaan Müjdeci)
Across the Sea (dir. Nisan Dağ, Esra Saydam)
Come to My Voice (dir. Hüseyin Karabey)
Civilian (dir. Levent Çetin)
In order to be informed our next programs follow our website and social media channels.
NEIGHBOURS
The following projects have participated in 2015 edition:
Forgiveness (dir. Sadaf Foroughi, prod. Majid Barzegar) - Iran
Manji (dir. Tinatin Kajrishvili, prod. Lasha Khalvashi) - Georgia
Radiogram (dir. Rouzie Hassanova, prod. Gergana Stankova) - Bulgaria
After  Film Development Workshop, Forgiveness and Manji teams are attending co-production markets and developing the scripts, and Radiogram is in the post-production stage.
NEIGHBOURS platform consists of neighbours of Turkey.
PANELS AND MASTER CLASSES
APRIL 5 2015 SUNDAY
11.00-13.00 Master Class
DIFFERENT APPROACHES TO SHOW REALITY IN DOCUMENTARIES
Speaker:Arash T. Riahi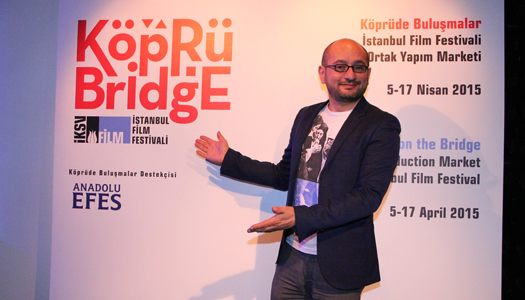 Arash T. Riahi will focus on how much real events can be planned and written before they happen and how flexible the cinematic, moral and acceptable meanings of truth can be. By working directly with the projects, together with the filmmakers, he will discuss different styles of dramaturgical approach to find the right way of storytelling for each project. He will also examine different classical documentary genre traditions as well as new approaches like trans-media documentaries. Further topics are the writing process for documentary, the role of research as well as the effect of fiction dramaturgy on documentary filmmaking.
APRIL 8 2015 WEDNESDAY
14.00-16.00 Screening112'
KOSMOS KOSMOS (DıRECTOR REHA ERDEM)
* English Subtitles
16.30-18.30 Master Class
Speaker:Reha Erdem (Yönetmen Director)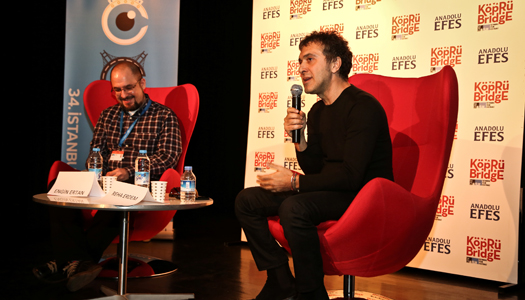 Reha Erdem's 2010 film Kosmos, which received the production support provided by Anadolu Efes and with the FIPRESCI Award he won with My Only Sunshine (2009) at the Istanbul Film Festival will be screened. Following the screening, Reha Erdem will talk about his cinema, inspirations, the location-time-human relation he builds in his films, and creating a meaning, a thrill.
APRIL 11 2015 SATURDAY
12.00-14.00 Master Class
EDITING SHAPED BY HUMAN PERCEPTION
Speaker: Çiçek Kahraman
This master class is designed for everyone, from professionals to anybody who is interested in cinema. It will be held in an interactive seminar format where both the guest and the audience will share their editing experiences. Scenes from the films that Çiçek Kahraman has edited, will be screened and discussed.
APRIL 12 2015 SUNDAY
15.00-17.00 Panel
YARATICI AVRUPA PLATFORMU EUROPE DESK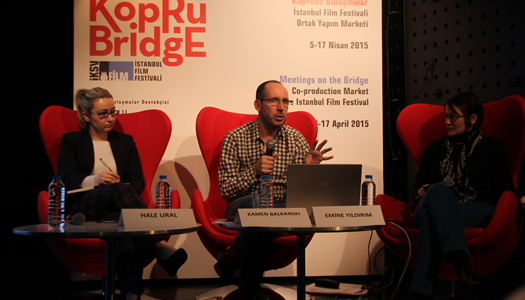 Speakers:Hale Ural(Kültür ve Turizm Bakanlığı Yaratıcı Avrupa Türkiye Masası Koordinatörü Coordinator of Ministry of Culture and Tourism Creative Europe Desk Turkey), Kamen Balkanski(Bulgaristan Yaratıcı Avrupa Masası Yöneticisi Head of Creative Europe Desk Bulgaria), T.C. Kültür ve Turizm Bakanlığı Sinema Genel Müdürlüğü Republic of Turkey Ministry of Culture and Tourism, General Directorate of Cinema
Moderator:Emine Yıldırım (Producer Giyotin Film)
This panel will focus on how audiovisual as well as culture and arts initiatives in Turkey can apply for funding as coordinators in the framework of the Creative Europe agreement that will be valid between 2014 and 2020. Also information on the application procedures and an insight in the selection processes will be shared with the audience.
APRIL 13 2015 MONDAY
11.00-12.40 Screening 96'
REMAKE REMIX RIP-OFF (DıRECTOR CEM KAYA)
*English Subtitles
13.00-15.00 Master Class
BUILDING A DOLLY OUT OF SOAP BARS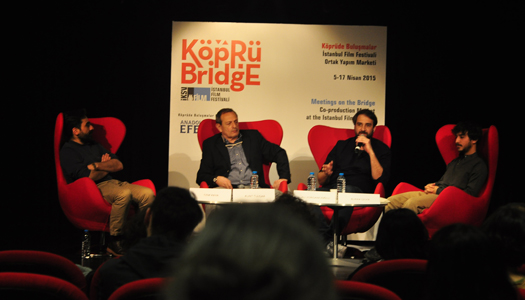 Speakers:Ali Yorgancıoğlu (Yönetmen Director Dirty Cheap Creative), Cem Kaya (Yönetmen, yapımcı Director, producer), Kunt Tulgar (Yönetmen Director)
Moderator:Burak Çevik (Yönetmen Director)
What to do to pursue your dreams, when the dreams are big but the budget is small? How to produce a film with a small budget by using alternative methods? These issues will be discussed on the basis of Yeşilcam Turkish movies of the 70s that inspired this film, and many of today's independent low budget movies.
15.30-17.00 Master Class
DID I FORGET SOMETHING?: MARKETING!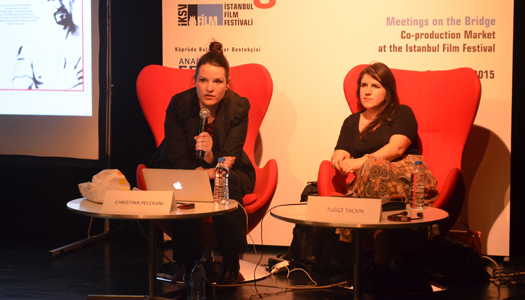 Speakers: Christina Pelekani (Pazarlama Danışmanı Marketing Consultant),Tuğçe Taçkın (Tanıtım ve Pazarlama Müdürü PR and Marketing Manager Medyavizyon)
The duo will present examples as to where old models and new trends in marketing and distribution scenes intersect and digress. It will also demonstrate film samples that utilize rare and conspicuous marketing strategies. The participants will also get insight into decision-making processes and strategic marketing preferences relevant to development, production and distribution.
APRIL 14 2015 TUESDAY
11.00-13.00 Panel
NEW TRENDS ON DISTRIBUTION, AUDIENCE ENGAGEMENT AND FUNDING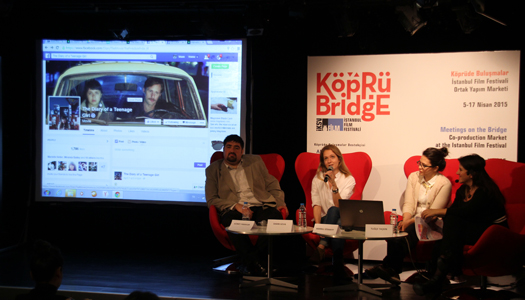 Speakers:Güney Yasavur (Operasyonlardan Sorumlu Yönetici Chief Operating Officer SPI International), Merrill Sterritt (Eş Kurucu Co-founder Film Presence), Shani Geva (Yapım ve Geliştirme Uzmanı Production and Development Executive Archer Gray)
Moderator:Tuğçe Taçkın (Tanıtım ve Pazarlama Müdürü PR and Marketing Manager)
This session highlights the growing importance and opportunities of online distribution, audience engagement and funding platforms. Experts discuss and examine the challenges along the industry's adaptation process.
APRIL15 WEDNESDAY
10.00-12.30 Panel
MEET THE MARKETS AND TRAINING PROGRAMS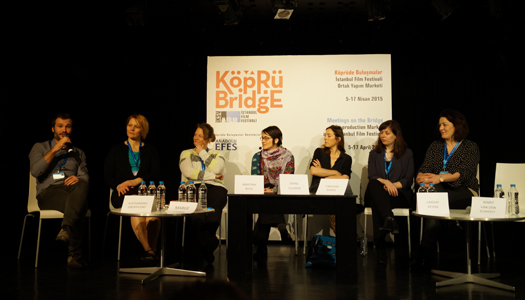 Speakers:Alessandro Gropplero (When East Meets West), Fabienne Moris (Fidmarseille), Lindsay Peters (Frontieres), Marge Liiske (Baltic Event), Marie Pierre Macia (Crossroads), Marit van den Elshout (CineMart), Martina Bleis (Connecting Cottbus & Berlinale)
11.00 BREAK
Speakers:Anita Voorham (Torino Film Lab), Georges Goldenstern (Cinéfondation), Giovanni Robbiano (MFI), Jovan Marjanovic (CineLink), Ruxandra Cernat (Film TEEP), Satu Elo (EAVE), Signe Zeilich Jensen (Holland Film Meeting)
Moderator:Emine Yıldırım (Yapımcı Producer Giyotin Film)
Your project is ready, and now comes the time to plan the rest of the process. Co-production market representatives will be here to meet you and to discuss their profiles. 
13.30-16.00 Panel
MEET THE FUNDS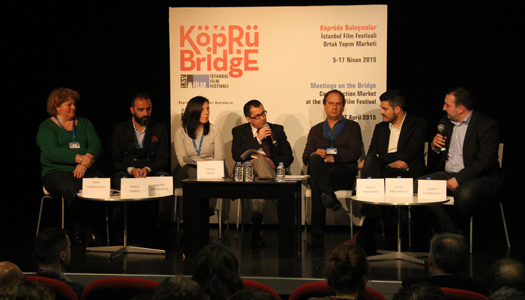 Speakers: Arben Zhakru (Kosovo Cinematography Center), Irina Kanousheva (Bulgarian National Film Center), Jovan Marjanovic (Creative Europe and City of Sarajevo), Khalil Benkirane (Doha Film Institute), Salome Murvanidze (Ministry of Culture of Ajara Region), Giorgi Khabashvili (Georgian National Film Center)
14.30 BREAK
Speakers:Eva Hubert (Filmförderung Hamburg Schleswig-Holstein), Sergio Garcia de Leaniz (Eurimages), Snezana Maric (Serbian Film Center), Teresa Hoefert de Turégano (Medienboard Berlin Brandenburg)
Moderator:Yamaç Okur (Yapımcı Producer Bulut Film)
Your roadmap through the regional and international film funding landscape: decision makers from international funds share information about selection processes and funding criteria.
16.30-17.30 Master Class
A CONVERSATION ON SCREENWRITING CONSULTANCY
Speakers:Anita Voorham (Senaryo Danışmanı Script Advisor), Tobias Pausinger (Sektör Danışmanı Industry Advisor and Consultant)
This master class seeks to provide some useful ideas and tricks for developing your script and will help you raise critical and crucial questions towards your story along the re-writing process. It also gives in sight in the work of a script consultant.
APRIL 16 2015 THURSDAY
10.30-12.00 Master Class
CURRENT AND FUTURE CHALLENGES IN FILM PRODUCING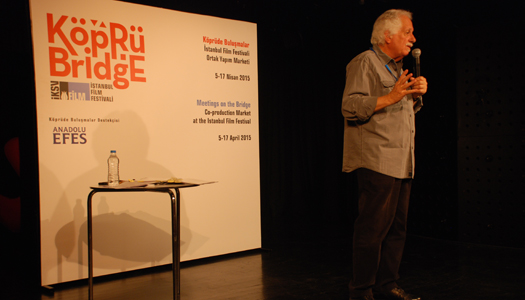 Speaker: Katriel Schory (İsrail Film Fonu Yöneticisi Head of Israel Film Fund)
The role of the producer "from the idea to the poster": What does it take to be a producer? How to face the challenges of ideas, stories and the scope of productions? How to generate interest and finance? And, in a world of co-productions, how to maintain creative freedom?
The content of this publication, supported by the Istanbul Development Agency and prepared within the scope of Innovative Workshops and Improving the Creativity and Commercial Success Capacities of National Film Industry Actors Project, does not reflect the views of Istanbul Development Agency or Development Ministry and Istanbul Foundation for Culture and Arts is the only party responsible for the content.
TR10/16/YNY/0063