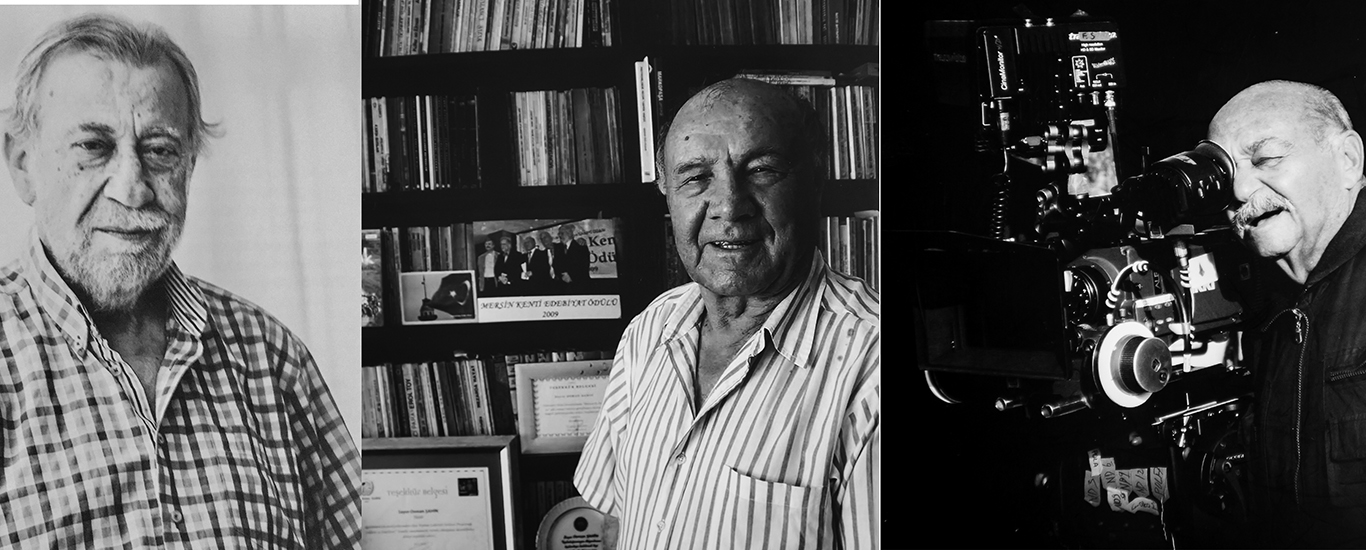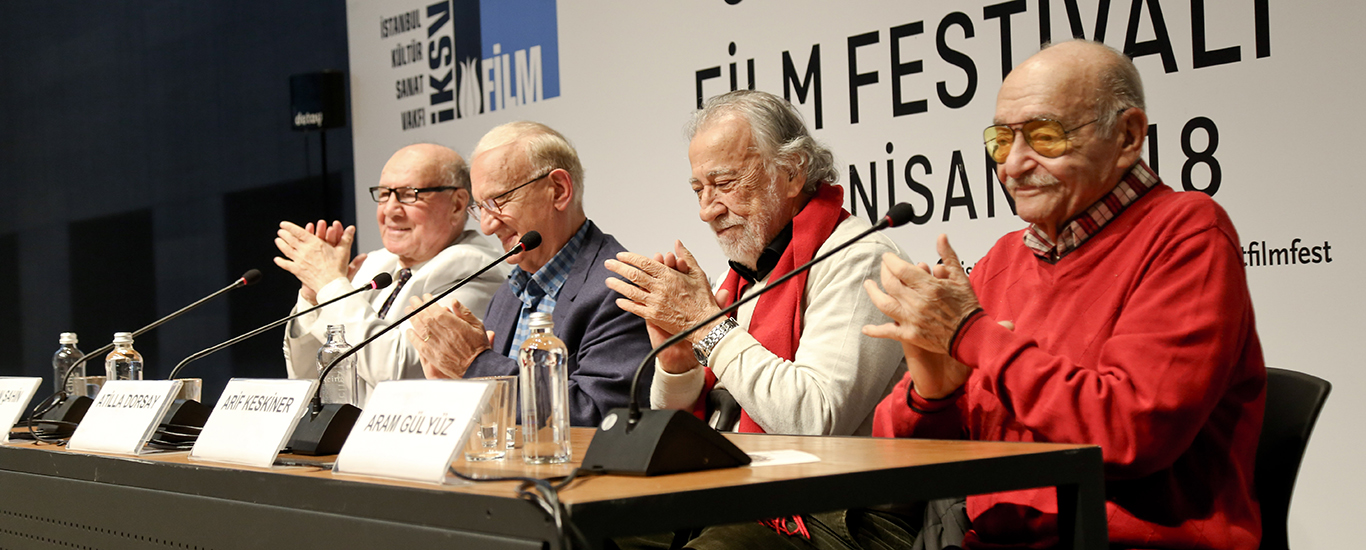 Sunday, April 8
Cornerstones of Turkish Cinema
This year's recipients of Honorary Cinema Awards; one of the most prolific directors of Turkish Cinema, Aram Gülyüz, the master of short story writing in Turkey, writer and screenwriter Osman Şahin, and one of the most authentic filmmakers in Turkey, producer Arif Keskiner came together for a unique talk on Turkish cinema, moderated by veteran film critic Atilla Dorsay, at the festival's center, Yapı Kredi Kültür Sanat.
The master of popular cinema: Aram Gülyüz
Atilla Dorsay first gave the floor to Aram Gülyüz who told the story of how he began his adventures in cinema: "When I went to Korea as a volunteer during the Korean War, we were six translator lieutenants in the same tent, and [director] Halit Refiğ was one of us. Under normal conditions, it was impossible for me to be friends with Halit, but evidently, when you're alone for 18 months in the same place, a tremendous friendship begins. He kept saying 'You're a funny lad, you should come to cinema,' so I was convinced.
Gülyüz, who really made the first sound film in Turkey, said: "A French director had come to Turkey. They told us to show him around. We went to see four films in two days. Then we went to a bar at night, and he said, 'What you're doing is similar to film-industry. I imaged how funny it would be if all our actors had the same voice as well.' All four films that we had seen together were dubbed by the same person. I immediately turned against dubbing at that moment."
The inspiration for countless films: Osman Şahin
When it was Osman Şahin's turn to speak, Dorsay reminded him of something Yılmaz Günay had once said of him: "You have no idea, man, but you're a total filmmaker." Osman Şahin, whose 23 short stories have been adapted to cinema, and participated in 60 festivals, and won him 35 awards, said: "I always wrote what I saw. And I always saw people trapped in situations. I saw nothing but death. You become skilled as you write. Cinema calls for drama, it won't go on straightforward. I wrote about the illiterate, undeveloped, trapped people of Anatolia. The man who 'slaughters his own son' from my story Burning Land is based on a true story, for example."
The intersection of Turkish Cinema: Arif Keskiner
Arif Keskiner who has been the producer of such films as The Bus, The Girl with the Red Scarf, The Man Who Hit the Jackpot, said: "The films I directed, I did them for my brother. My real story of getting into cinema actually goes back to my childhood. I was interested in writing poetry at a young age. One day Şükran Kurdakul said to me 'You write bad poetry'. [Poet] Edip Cansever burst in: 'Don't go hard on the boy; he's still very young, he will get better at it by writing more.' Yüksel Arslan was also on the same table. It was thanks to these people that I entered Turkish cinema."
Photo: Benek Özmez