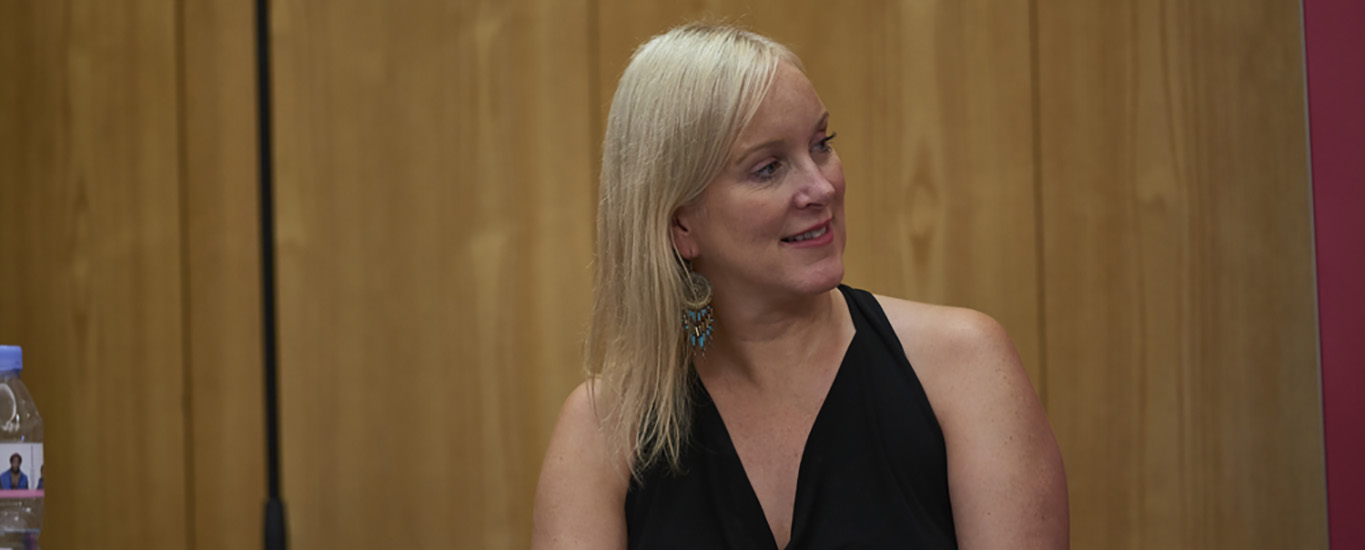 Friday, April 13
Meet the Funds and the Markets
Meetings on the Bridge started the day with the panel "Meet the Funds and Markets" presented by representatives of funds and markets from different parts of the world. The moderator of the talk was Selin Murat from Parabola Films and the panelists were the following: "Eilon Ratzkovsky (TorinoFilmLab), Elise Jalladeau (Selanik IFF), Fay Breeman (Hubert Bals Fund - IFF Rotterdam), Georges Goldenstern (Cinefondation), Cia Edström (Nordic Film Market), Lindsay Peters (Frontieres), Martina Bleis (Connecting Cottbus), Ruxandra Cernat (Film TEEP) and Signe Zeilich-Jensen (Holland Film Fund). 
The event took place at Yapı Kredi Kültür Sanat, and each participant presented funds or markets, and also gave advice on what to do and what not to do during the application process. They emphasized that it's always more advantageous that the projects tell their purpose briefly and to the point, and pointed out that a project should state its distinguishing feature that sets it apart from the other ones. It was shared that although speaking a foreign language, particularly English, is not a requirement to apply to the film markets, having the basic command has a positive impact on establishing a long-lasting relationship with potential producers. The participants also said that it helps to share with the markets some visual material and a teaser if possible, and added that the right method of promotion is a must in order to find co-producers or foreign funding.
Meet the Festivals
Yesterday's second event of Meetings on the Bridge was "Meet the Festivals" moderated by Armağan Lale from Filmada. The representatives of international festivals were: Dorota Lech (Hot Docs), Elma Tataragić (Bosna-Hersek FF), Evrim Ersoy (Fantastic Fest), Freddy Olsson (Göteborg FF), Julia Barda (Seattle IFF), Julia Sinkevych (Odesa FF), Karel Och (Karlovy Vary FF), Lorenzo Esposito (Locarno FF), Nebojsa Jovanovic (Kinenova Skopje IFF), Orestis Andreadakis (Selanik FF), Pedja Milojevic (Trebinje FF), Prune Engler (La Rochelle IFF), Sona Karapoghosyan (Malatya Golden Apricot FF), Stefan Laudyn (Warsaw Film Festival), Tiina Lokk (Tallinn Black Nights FF), Yoshi Yatabe (Tokyo FF) Zviad Eliziani (Batum FF).
The representatives talked about their submission processes, which criteria they held, and their submission fee policies. They emphasized that filmmakers should follow their own desires and not having festivals on mind.
If You See, You Exist
The last Meetings on the Bridge event of the day was "Women in Cinema: What has changed until today and what is next?". Ceylan Özgün Özçelik (Director), Cia Edström (Industry Manager - Göteborg FF), Francine Raveney (Project Manager - Eurimages), Meltem Ağduk (Gender Program Coordinator - UNFPA), Meryem Yavuz (Director of Photography), Müge Özen (Producer - Solis Film) and Teresa Hoefert de Turegano (Funding Advisor - Medienboard Berlin Brandenburg) were the participants, and film critic Doç. Dr. Melis Behlil moderated the talk.
Teresa Hoefert de Turegano said that although there is now a more equal distribution of both genders in film schools, unfortunately it isn't reflected in the industry or in the ratio of women's to men's acceptance for funding, and added that there's an increase in awareness but the way to make female filmmakers visible in the industry is to make long-term action plans. Francine Raveney shared that in terms of gender equality they're aiming at a ratio of 50% at Eurimages for 2020, and pointed out that not only equal funding but equal distribution of the funds is also important.
The panelists agreed that the fight against gender inequality in cinema is possible by taking concrete steps and through action plans, and talked about the importance of reaching certain numbers by researching the market. They shared that the data found by the industry research made by Geena Davis Institute show Hollywood the facts that, despite the common belief, the number of female audience is greater than the number of male audience, and that men watch films in which female characters steer the story. Meltem Ağduk added that, in this sense, it is necessary to bring academia and the industry together and that these data need to be found in order to transform the market. Ağluk said that she sees positive discrimination as a temporary measure and talked about the necessity of solidarity mechanisms in which women organize with each other.
Müge Özen proposed that the argument shouldn't be formed based on the necessity of there being an equal number of women as men, rather on the lack of female perspective on the screen or in cinema, and argued further that no matter the director is male or female, stories told from a female perspective should also meet the audience. The panelists quoted Geena Davis's phrase "If she can see it, she can be it," and explained that when young women see a female director of photography represented, it'll become normal for them to imagine it for themselves. Director of photography Meryem Yavuz to her personal experience: "When I decided to make films in high school, I didn't think about how being a woman would make my life difficult. None of the women I worked with ever asked me 'Is it okay if you carry the camera on your shoulder?', but all men did. They weren't satisfied by the answer I gave them, so this weird atmosphere always remained until the work was done. Because being a woman is not a concern in my life, I keep on fighting. I study a lot to prepare myself and for the sets as well."
Ceylan Özgün Özçelik said that they're looking for funding for their second film, and added that the entire crew of the film is made of women and that they want the executive team they'll work with to be exclusively of women as well. The director talked about the difficulty of making a second film for independent filmmakers and asked a question about production: "How many companies think of women when they're looking for a director for the project today?" After Raveney argued that awareness will be raised once the visibility increases, all the panelists agreed that we all need to keep up the fight wherever we live: "We're fighting and we have to keep on fighting!"